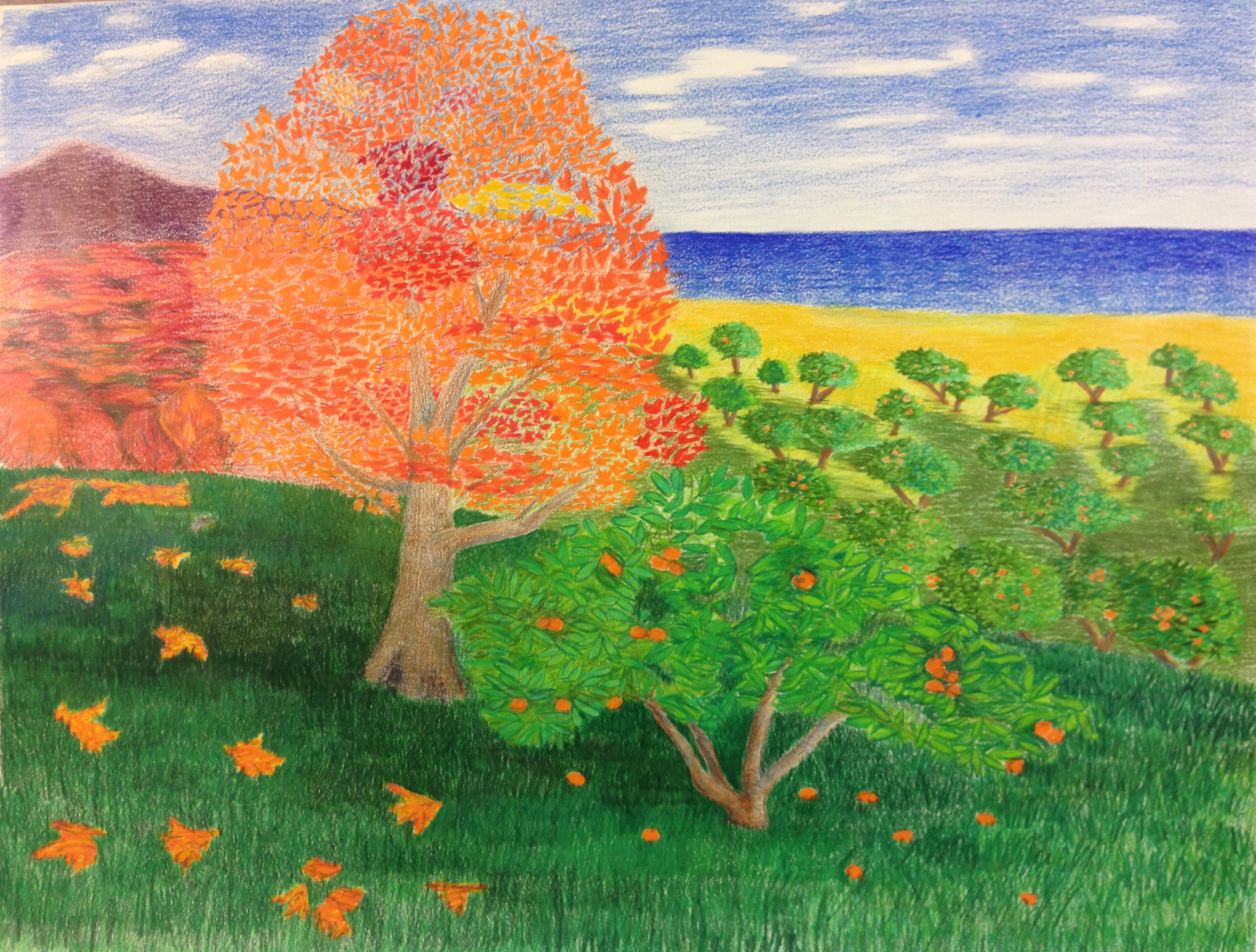 Canada and it's beauty has a special place in my mind. Its Red Maples and their wonderful colors are a majestic site in the fall. Canada has tons of them, even on their flag. Walking in the woods, through the trees, up the hills and in nature is my most happy place. It always has been. We take yearly trips into the mountains so I can share this wonder with my family and friends. Trees, nature, rocks, ponds and all the animals that cohabit them are my most cherished of relationships. They never disagree with me 🙂
Recently, my parents moved to Florida. It's a trend. My close friends, the Abbates, moved down a year before them. My family has been slowly matriculating down there over the years. My uncle Craig was first, then my Aunt Lynn, then Grandma, then my Aunt Tracy. Other of my relatives have moved to North Carolina, but that's not the point of this post. It's about the Orange Trees in Florida. I don't like to walk through them, there are no hills to climb and the animals that may live in there scare me. Not to mention the sharks that surround the state of Florida. But the Orange trees represent so much to me. The sun, the sweet juicy nectar, warmth and their beauty. Yes, I think orange trees are beautiful. Not as beautiful as an orange Maple in the fall, but I really can't compare them. They are unique unto themselves.
An Orange Tree and an orange tree would never exist in the same climate for long. You may be able to do it for a little while, but the Orange Tree needs lots lot sun and warmth and the Maple only turns orange in the fall when the air starts to chill. That chill would be the end of the Orange Tree and it makes the orange tree possible. These two trees only meld in my mind. Recently, I was able to fly down to Florida to visit my friend who had recently moved to Mt. Dora. We had a great time and I was impressed with the Orange Trees that grew all over town. They looked a little scraggly, but the oranges jumped out and compensated for the scraggly leaves. They were beautiful. After my trip to Florida, I had a scheduled family trip to Toronto. I flew home and immediately packed the car for our trip up north. It was a great trip and I handled the transition from south to north very well. I'm not a huge fan of the south so I was really looking forward to heading up north. All the time, thinking about the Orange Trees.
I had this idea that I wanted to combine the new to me experience of Florida and the Orange Trees with my love of nature and the north, particularly the Maple tree. I started to think about the trees and combining them into one drawing. The sketches started to flow and I started to get excited about what this could look like. I kept drawing the trees, branches and leaves to see what I could make of a composition. It took a couple weeks to build up some courage, but I started a color/layout test to see what I could do.
This is the final draft of my color/layout for the trees. I like it, but there is much to improve. Check it out.